Representatives from one of the most advanced manufacturing areas of the US East Coast will be in Belgium Monday-Wednesday, May 6-8 and in The Netherlands on Thursday and Friday May 9-10.
Meetings are being arranged by Trip DuBard of SC Connect: [email protected] or +32 (0)487 39 32 08.
….
….
The Upstate SC Alliance
(Much of this is adapted from the Upstate SC Alliance website. Photo is of Devils Fork State Park in Upstate SC.)
Upstate South Carolina provides an exceptional business climate for world leaders in cutting-edge sectors such as automotive, aerospace, advanced materials and biosciences. Its talented workforce, diverse industry, accommodating infrastructure, and attractive lifestyle have attracted Michelin's North American headquarters, BMW's largest manufacturing plant and other such world-class companies as GE Power, Fluor, Milliken, and Fuji.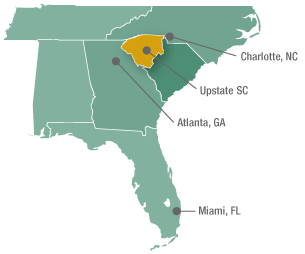 The Upstate is generally thought of as the western most part of South Carolina, surrounded by Georgia, North Carolina and Tennessee. If you were to draw an imaginary line between Charlotte and Atlanta, the Upstate would be the part of South Carolina west of the line.
To view more Upstate-specific information about international companies, workforce and other issues, visit the Upstate SC Alliance's information page here.
For more information about South Carolina in general, its regions and its resources, click here.
Attracting Attention
Since 2010, the Upstate area has announced more than $15 billion in capital investment and more than 43,000 jobs. In 2017, the Upstate SC region accounted for approximately 38% of the state's new capital investment, and 34% of the state's new job announcements.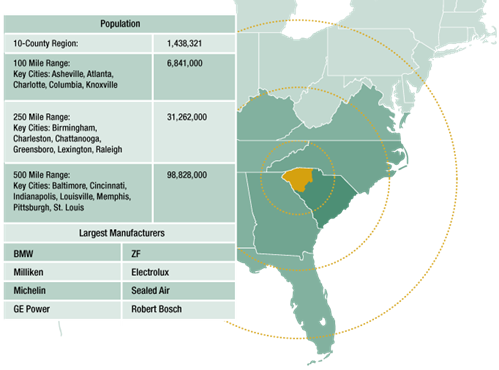 Favorable Cost of Business
Low energy costs, abundant water, low cost of living, a 5% corporate income tax rate combined with South Carolina's right-to-work environment make the Upstate an affordable location for companies that want to maximize their output while minimizing costs.
South Carolina has no state-levied state property taxes; no local income taxes; no inventory taxes; no sales tax on manufacturing equipment, industrial power or materials for finished products; no wholesale tax; and no unitary tax on worldwide profits. Additionally, the South Carolina Department of Commerce offers economic development incentives to businesses who choose to relocate or expand within the state.
South Carolina is a right-to-work state with the lowest unionization rate in the nation at 1.6 percent. The unionization rate for manufacturing in the Upstate is zero percent.
Upstate Rankings
Upstate SC and the State of South Carolina are consistently recognized as great locations for business. Rankings include…
#1 nationwide in attracting jobs through foreign investment for three of the last five years, according to analysis by IBM-Plant Location International (IBM-PLI) in its Global Location Trends: 2016 Annual Report.

#1 Micro City of the Future- American, FDi Intelligence 2017-2018
2017 State of the Year, Business Facilities Magazine 2018
#1 Destination for foreign direct investment (4 of the last five years), Global Location Trends
To arrange a meeting, contact Trip DuBard of SC Connect at [email protected] or +32 (0)487 39 32 08.
….
….
Team Upstate
Representing decades of economic development experience, Team Upstate has helped dozens of international companies establish operations in the thriving Upstate region. Each member can speak knowledgeably about workforce, infrastructure, economic incentives, taxes, markets and other issues important to businesses growing into the United States.
Marc Metcalf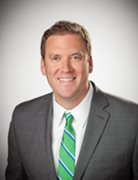 Marc Metcalf is a Senior Business Recruitment Officer for the Upstate SC Alliance, providing support to companies that are considering expanding their business in the U.S. In his role, Marc works with the Alliance's public and private sector investors in executing strategies focused on making the Upstate an ideal location for business expansion opportunities. Marc currently represents the Alliance on the boards of SCBIO and the SC Automotive Council, and he is a board member of the City of Greer Recreation Association.
Read Marc's LinkedIn profile here.
….
Heather Jones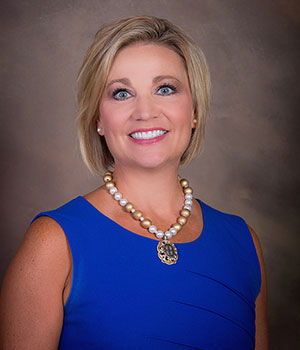 Heather Jones is chief executive officer of Greenwood Partnership Alliance, home to the biotechnology giant Lonza and the Greenwood Genetics Institute.
The Greenwood Partnership Alliance is a non-profit organization established to promote and enhance the economic growth and development of Greenwood County. Since 1994, GPA efforts have resulted in announcement of more than 3,750 new jobs and more than $1.8 billion in capital investment in the county. Under Ms. Jones' leadership, the GPA maintained closed several major announcements from such companies as Colgate-Palmolive, Fuji Film and Lonza.
Read Heather's LinkedIn profile here.
…..
…..
Ray Farley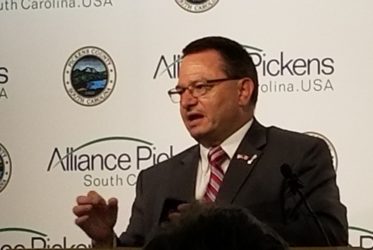 Ray Farley is executive director of Alliance Pickens, an economic development agency which hosts specialty medical device manufacturer Abbott Laboratories and automotive parts company Yokohama Industries America are two of the county's biggest companies.
Pickens County is also home to Clemson University, one of the US's top 25 universities and known for its emphasis on automotive research, engineering and agricultural technology.
To arrange a meeting with Team Upstate, contact Trip DuBard of SC Connect at [email protected] or +32 (0)487 39 32 08.