How Tennessee – Not SC – Won Van Hool's 600 Jobs
Belgian bus manufacturer Van Hool considered Orangeburg, SC, Fairfield County and Florence, SC as sites for the new plant recently announced for Morristown, TN. 
But the company drove on due to concerns over supplying a future work force and difficulty finding the right site, the company's in-house project consultant says.
Ultimately, Tennessee — a state not even on their original list — won the $47 million project, the company's largest investment outside Belgium.
Tennessee Gov. Bill Haslam joined CEO Filip Van Hool April 12 to announce the project that's expected to produce buses as early as 2021.
Project Consultant Benedicte Gruwez spoke recently at the US Embassy in Brussels, then later by telephone about the selection process for the 71-year-old company's largest investment outside of Belgium.
Years of Planning
Van Hool began considering the US as a way to continue growing about five years ago, Gruwez said. With footholds in the private market, the company saw US growth through sales of public transport buses.
"We knew our US market. We knew that our growth was limited," she said. "For us to grow, we needed to step into something that we were not part of yet."
But "Buy America" restrictions for public bus purchases in the US all but required the vehicles to be manufactured there, she said. (For more about the relevant Buy America policies, click here.)
Having already sited a production facility in Macedonia, Van Hool knew the design and layout that they wanted for  the new US facility. And, after attending the 2015 Select USA conference for foreign companies considering US investment, the company narrowed the search to the southeastern US – the East Coast because of its large population centers, the South because of its lower production costs.
Southeastern Opportunity
Soon, Gruwez was working with a list of five states – North Carolina, South Carolina, Florida, Virginia and Georgia.
"We have to find a place that we can produce the product and find people that can produce that quality we're looking for," Gruwez said. "Alabama, Tennessee and Kentucky were not initially in the first look." But they were soon added, she said, because their experience with the automotive industry gave them skills, schooling and suppliers.
South Carolina clearly drew Van Hool's attention, in part, because of its 25-year experience with BMW, and the suppliers and other auto groups its attracted. In fact, Belgium had a contingent at the recent SC Automotive Summit in Greenville.
As Van Hool examined the states, Virginia and Florida fell away because of high costs.
South Carolina stayed in the mix, and Van Hool worked with state Department of Commerce representatives in SC and from the Munich office.
Florence especially impressed Gruwez with its Southeastern Institute of Manufacturing Technology and Technology.
"That school just blew us away,' she said.  "The capabilities they had, the machines they had were amazing."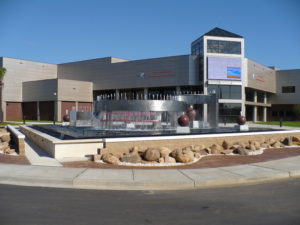 But the South Carolina sites didn't fit Van Hool's specifications, and the labor market seemed especially tough, Gruwez remembers, especially since the Volvo plant was opening only hours away near Charleston.
The final three states in contention were Alabama, Georgia and Tennessee.
Workforce is Destiny
In the end, she says, Tennessee "ticked all the boxes," including right salary levels, proper site, mix of blue collar and engineering workers and general comfort level. South Carolina "fell out early," she said, because of inappropriate sites and labor concerns.
"You need people from all ages- not only young people that just finished training" as SIMT in Florence could provide, Gruwez said. Not only was the company concerned that those newly trained at SIMT might disappear to Volvo, the company was also concerned that students still in school weren't interested enough in manufacturing.
SC manufacturing executives told Van Hool that "people were not that much interested in manufacturing. Either they were going away or they were going  into agriculture."
The company's big concern, she says, was "When we start up, will we find the 400-600 people we need from the beginning?"
"If you don't have the people to do the job, it will be the problem."